ExtremeVital.com
You can use product names, manufacturer names, keywords...
Product

description

Specialized Levo SL Comp Carbon 29 is a new, lightweight breed of eMTB that harnesses the quick and lively ride ofour Stumpjumper...and adds just enough power to introduce a whole new dimension ofkick ass. The Levo SL Expert Carbon features a full carbon frame paired to full FOXsuspension and a SRAM Eagle GX drivetrain.

The Levo SL looks like a Stumpjumper and, out on the trail, feels like one too. That'sno mistake. Specialized aimed to build a Stumpjumper with a bit more boost to it and that'sexactly what you get—a Sidearm chassis with just the right amount of front-to-rearstiffness and 150mm of smooth, custom-tuned FOX front and rear suspension. To topit all off, Levo SL chasis was constructed  entirely from Specialized's light-yet-strong FACT11m carbon.

The geometry of the bike offers you better handling and that means more fun. Lower bottom bracket, the reach is lengthened, the chainstays are kept nice and short, the head angle is slacked-out, the seat angle steepened, that improves climbing efficiency, and a low centre of gravity is maintained. You'll also find a Flip Chip that lets you adjust the bottom bracket height and head angle in a matter of minutes. Your benefit?  Best trail capability, the sitting position is very balanced, stable handling on descents, and the responsive ride feels on technical trails.

At the motor, Specialized 1.1 custom lightweight motor was built to be the smallest and lighter motors of them all. It also features different internal components, and it weighs 1,100 grams less than Levo 2.1 motor. The magnesium motor casing is one of several advancements that help make the motor so light. The Levo SL model has 320Wh battery capacity, with a single 160Wh Range Extender battery (sold separately) that increases onboard battery capacity to 50 percent. The bike gets more distance out of every full charge, so there's no need to worry about getting caught on the trail without enough juice to get you home. The motor's responsive torque curve deliverspower perfectly in-tune with your normal riding cadence and leaves no resistancewhen you're riding without power assistance. The Smart Control feature, available with their Mission Control App, lets you set the power assist to last for either the duration of your ride or until you reach a point you've defined yourself. Battery status is now always on view with both the new Turbo Connect Unit and the optional handlebar-mounted Turbo Connect Display. The Mission Control has three assisted riding modes: ECO (30%), TRAIL (60%), and TURBO(100%).

This Turbo is also the smartest and best-connected e-MTB to date. The Turbo Connect Unit is at the center of the top tube, and it connects the bike, via ANT+ and Bluetooth®, to both the outside world and the Turbo Connect Handlebar Display (available aftermarket). Speaking of which, the latest version of the Mission Control App now has more features and is simpler to use than ever before. It lets you easily custom-tune nearly every aspect of the bike, monitor your power use, control your range, perform basic system diagnoses, record and upload rides—there's even a new Shuttle Mode feature that takes the sting out of long climbs by giving you maximum motor support with less required effort at the pedals.

Specialized Turbo Levo SL S - so light, you'll forget it's electric!

Why 29" wheels?
29" bikes for better control - thanks to a larger contact area with the ground, they offer you improved traction and better control while riding
29" bikes for higher speed - simple physics: larger diameter, higher speed
29" bikes for a smoother ride - larger wheels make it easier to overcome smaller and larger obstacles on the trail
29" bikes for taller bikers – simply because they are larger

Frame:
FACT 11m full carbon, 29 Trail Geometry, Integrated down tubebattery, enclosed internal cable, Command Post routing, 148mmspacing, fully sealed cartridge bearings, 150mm of travel
Fork: 
FOX RHYTHM 34 FLOAT 29, GRIP damper, 51mm offset, 2-position sweep adjust, 15x110mm, tapered alloy steerer, 150mm of travel
Rear shock:
FOX FLOAT DPS Performance, 3-position adjustment,52.5x210mm, Rx Trail Tune
Drivetrain: 
SRAM NX Eagle, 12-speed (rear) / SRAM NX Eagle, trigger (shifters) / 12-Speed
Brakes: 
SRAM Guide R, hydraulic disc, 180/200mm
Crank:
Praxis, forged M30, custom offset
Cassette:
SRAM GX Eagle, 12-speed, 10-50t
Seatpost:
X-Fusion Manic, infinite adjustable, two-bolt head, bottom mountcable routing, remote SRL LE lever, 34.9mm, S: 125mm, M/L:150mm, XL: 170mm
Rims:
Specialized, sealed cartridge bearings, 15x110mm spacing, 28h (front) / Specialized Turbo, sealed cartridge bearings, 12x148mm thru-axle, 28h (rear)
Front tyre:
Butcher, GRID TRAIL casing, GRIPTON® compound, 29x2.3"
Rear tyre:
Eliminator, GRID TRAIL Casing, GRIPTON® COMPOUND, 2Bliss Ready, 29x2.3"
Motor:
Specialized 1.1, custom lightweight motor, 250W nominal
User interface:
Specialized TCU, 10-LED state of charge, 3-LED Ride Mode display, ANT+/Bluetooth®
Battery:
Specialized SL1-320, fully integrated, 320Wh
Charger:
Custom charger, 48V System w/SL system charger plug
Click on suspension calculator for help in setting the suspension.
* Specifications are subject to change without notice.
Reviews
(6)
Reviews
D. ANDREJ, MARIBOR, 11/24/2022 11:16:19:

Avg. rating:

Perfektno kolo za tiste, ki imajo kondicijo in bi radi šli dlje in/ali hitreje. Kolo ni primerno za začetnike, saj ima premalo moči. Komponente so dovolj dobre za večino uporabnikov. Kolo se zaradi relativno nizke teže da voziti tudi brez pomoči motorja, kar je velika prednost, saj odpade strah pred prehitro porabljeno baterijo. Zaradi nizke teže se kolo vozi kot navaden mtb. Motor je pod visoko obremenitvijo kar glasen, kar pa mene osebno ne moti.

D. G., Maribor, 06/14/2022 10:33:46:

Avg. rating:

Osnove kolesa Stumpjumper je dobro integrirana v e-kolo, ki je primerno za srednje zahtevne spuste. Asistenca pri kolesarjenju ni agresivna, kar daje zelo naraven občutek kolesarjenja. S prvo stopnjo pomoči sem naredil 80 km in 1600 hm. Zavore niso slabe in so brez problema vzdržale 1000 hm trail spusta v kosu.

P. T., Jesenice, 04/11/2022 10:27:49:

Avg. rating:

Kolo je odlično, če želiš z njim delat se pravi ni tipično električno kolo, ki da ogromno moči in ti s tem pomaga. So pa na kolesu izredno slabe zavore, ki opešajo že po kakšnem malo zahtevnejšem spustu.

J. T., Dobrova, 03/05/2022 01:05:30:

Avg. rating:

Resnično odlično kolo, z zmogljivim vzmetenjem, ki poleg treh stopenj električne pomoči omogoča tudi lahkotno vožnjo v klanec brez elektrike. Električne pomoči je dovolj tudi za najhujše klance. Prestavno razmerje omogoča dovolj hitro vožnjo po ravnem, spusti so zaradi lahkotnosti kolesa in dobrih zavor užitek.

A. G., Ljubljana, 10/12/2020 11:58:47:

Avg. rating:

Perfektno enduro kolo za izkušene kolesarje, ki kupujejo prvo e-kolo. Asistence in baterije je več kot dovolj, če resno poganjaš. 2-3kg dodatne mase pri vožnji navzdol ne občutiš - perfekten handling. Če hočeš močan električen motor kupi raje kaj drugega. Bi pa raje izbral Shimano opremo, če bi lahko.

. ., RAČE, 05/22/2020 10:17:15:

Avg. rating:

Odlično kolo, primerno za res pripravljene športnike saj je na njem treba delati. Vseeno poskočno, dovolj pomoči, da prideš kamor te navadno kolo ne pripelje. Tudi spusti z Levo Sl so pravi užitek, živo, lahko in lahko obvladljivo kolo, na katerem uživaš na vsaki vožnji.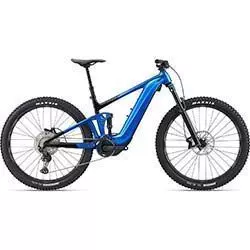 Giant
Electric bike Trance X E+ Pro 29 2 2022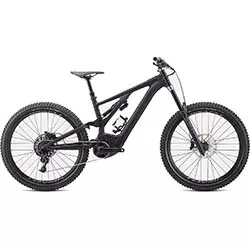 Specialized
Electric bike Turbo Kenevo Expert 6fattie 2021 black