ExtremeVital.com
You can use product names, manufacturer names, keywords...
Product

description

Specialized Drirelease Tech SS is a best value all round biking tee, for those of you who charish performance without the added price tag. Aside from a classic, laid-back style, this shirt boasts a construction that marries the aforementioned with an undeniable level of performance. It's drirelease® fabric with FreshGuard material naturally manages moisture and odor buildup. It also feels extremely soft against the skin, so you'll always be cool and comfortable, both during your ride and after. 

Features:
drirelease® fabric naturally wicks away moisture to keep you dry
Crew neck collar keeps things comfortable and casual, so the shirt is equally at home on the trail as it is at the pub afterwards.
A classic relaxed fit is generous, comfortable, and leaves plenty of room for elbow pads and light armor.
Deflect® UV 50+ protects your skin from harmful, ultraviolet rays
Regular fit
Fabric: 85% polyester, 10% cotton, 5% elastane
Reviews
(5)
Reviews
N. Z., Cerklje, 09/20/2022 07:57:39:

Avg. rating:

Za to majico sem se odločil, ker je material zelo prijeten na otip, precej bolj kot na ostalih tehničnih majicah, posledično zelo prijetna za nosit.

D. ?., Ajdovščina, 08/22/2022 11:45:18:

Avg. rating:

Majica je super,lahka in zračna še najbolj je posebna barva

I. S., Gornja Radgona, 08/07/2022 09:28:20:

Avg. rating:

Na otip in izgled kot navadna bombažna majica, ampak zelo zračna in hitro sušeča. Primerna tudi za prosti čas.

J. L., Koper, 07/30/2022 14:28:25:

Avg. rating:

Zelo dobra majica - prijetna na koži, ustrezno zrači, odlična tudi za casual nošnjo čez dan.

J. K., Ljubljana, 06/20/2022 10:07:47:

Avg. rating:

Super kolesarska majica. Mehka, nimaš občutka, da je švic majica. Hitro se posuši.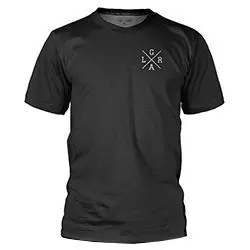 Loose Riders
Jersey Basic SS black