ExtremeVital.com
You can use product names, manufacturer names, keywords...
Product

description

The best offer in the world of indoor trainers by Tacx - NEO 2T Smart. It comes with a new significant reduction of noise from air displacement or vibrations, improved ride feel where motor power results in a better ride-feel during climbs and sprints. NEO 2T is directly compatible with 135x10, 142x12, and 148x12mm axles. The main changes are the stronger magnets, that gives it the higher torque that eliminates the slip.

Neo 2T Smart offers the best in power and intelligence and is the quietest indoor trainer currently available on the market. The lack of any physical transmissions means this is the first true direct drive. Road feel is simulated in a highly realistic manner, there is no loss of power. The powerful motor is able to apply resistance up to 2200 Watt and simulate slopes realistically up to 25%. It also speeds up during descents. This ensures the most realistic cycling experience, also during climbs. 

Neo 2T Smart has a direct connection of the bike and the trainer, which provides the most realistic feel, similar to the bicycling outdoor. In addition, this trainer requires no calibration and suffers no wear and tear. Just like other Smart trainers, the NEO communicates using ANT+ and Bluetooth Smart, allowing it to be connected quickly and easily with Tacx apps. Performance data can be viewed on several devices simultaneously, including your smartphone, bike computer Garmin Edge and sports watch. The lack of any physical transmission, and in turn any parts that could rattle or rub against each other, ensures this trainer is extremely quiet.

When the NEO 2T Smart isn't connected to a smartphone, tablet or computer, it behaves as a fluid trainer. This means the trainer behaves progressively: when your speed increases, the resistance increases as well. It is possible to use this trainer in a "stand-alone" status. Furthermore, the Tacx NEO 2T features Plug in/Plug out technology and can, therefore, be used with and without a plug. When the plug is not in use, the trainer will act as a wireless motor brake. This means the trainer will not be able to speed up during descents. You can use this trainer anytime and anywhere, even when you don't have your smartphone with you.



Features:
Type of trainer: Interactive smart direct drive
Motor brake
Direct drive resistance unit, which will ensure uninterrupted power flow, meaning you won't lose a single bit of output or power
The virtual flywheel can generate a variable inertia effect, allowing it to simulate the bike movements of all cyclists up to specific body weight (125 kg max.)
Automatic Operation thanks to the FAST technology, which means the NEO carries out a 1000 calculations per second to predict the movements of the bike and the rider's movement to simulate the action of the flywheel
Max brake power (10 sec.) 2200 Watt dynamically controlled by a virtual flywheel. This means that the resistance is calculated and adjusted continually to simulate natural road resistance. Air and rolling resistance, gradient percentage, weight, air pressure, wind speed, temperature, altitude, inertia and brake properties are all taken into account and calculated hundreds of times per second to achieve a realistic feel
Mass inertia 125 kg (the higher the value, the more realistic the cycling experience)
Realistic slope 25% (With a total weight of 75 kg)
Electro brake features one row with electromagnets and one with permanent magnets, with a rotating disc in between
Cadence is determined from the thousand measurements per second in order to predict the bike's movements. The sine modulation of the bike's movement is used to determine the cadence and the power output
Intuitive LED lights indicate if you're connected and powered
Descent simulation To -5%
Measures the exact position of your left and right leg
A foldable frame for easy transport and storage
You may connect a Tacx Smart trainer to your smartphone, tablet or computer with ANT+ or Bluetooth Smart in order to use the compatible software and apps
Compatible software and apps help you may regulate your training ride by heart rate, gradient, and power, riding a famous route or race or competing with other riders online. Available for smartphones and tablets (iPhone 4s and higher or Android version 4.3 and higher) and Windows PC
The trainer is freely accessible as they are able to speak the ANT+ FE-C language. You can now adjust the resistance of our Smart trainers and check your speed, cadence, and power with other software. Zwift, Trainer Road, Kinomap, Bkool software packages speak this new language too and allow you to control your new trainer
The NEO has a universal EDCO Multisys body that fits all Shimano and SRAM cassettes, and most Campagnolo cassettes
Cassette not included!

Not suitable for Specialized SCS system cassette

Suitable for Shimano 8 t/m 11 speed. Campagnolo, SRAM XD, and XD-R body sold separately

In the box: Direct drive quick release with adapter set 142x12mm and 148x12mm, 

Quick release for road bikes and mountain bikes (5mm)

, 

Front wheel support
Reviews
(8)
Reviews
J. J., Brezovica, 02/02/2022 15:39:10:

Avg. rating:

Vrhunski kompakten trenažer, zelo tiho delovanje, vgrajen zelo natančen merilec moči, super alternativa mrzlemu in slabemu vremenu.

R. P., Vrbanovec, 12/16/2021 12:18:20:

Avg. rating:

Trenažer je vrlo tih, spaja se bez problema na Zwift, nema proklizavanja kotača kao kod wheel- on trenažera. Dojam prve vožnje je odličan. Brza dostava.

S. B., LJUBLJANA - DOBRUNJE, 12/13/2021 08:34:05:

Avg. rating:

Odlično, sem bil proti trenažerjem, ko je megla in hitro noč je odlična stvar za ohranjanje kondicije in dobrega počutja. Uporablja ga cela družina.

M. D., Ljubljana, 12/10/2021 10:34:32:

Avg. rating:

Odlični trenažer, natančne meritve, stabilen, zavzame malo prostora. Skupaj z aplikacijami je odlično orodje za ohranjanje kolesarske kondicije skozi hladnejši del leta. Priporočam!

A. K., Zgornja Korena, 11/15/2021 14:14:52:

Avg. rating:

Prvi občutek vadbe je zelo dober. več realnih informacij bo spomladi, ko se bo zaključeval zimski ciklus notranjih priprav. Izdelek priporočam!

T. L., Ljubljana, 07/29/2021 11:22:34:

Avg. rating:

Odlična in tiha rešitev za nabiranje kilometrov v času slabega vremena. Omogoča delovanje tudi brez napajanja, kar je idealno za vse, ki uporabljajo trenažer v večstanovanjskih objektih (kleti, ipd).

Občutek tresenja deluje tudi brez napajanja.

M. T., Ljubljana, 07/26/2020 21:21:29:

Avg. rating:

Ni se kaj pritoževat. Zadeva šiba kot mora. Bi pa priporočal nakup tudi boljšega ventilatorja, ker kolesarjenje doma drugače na biti precej vroče. Sploh v poletrnem času.

P. C., Sežana, 12/16/2019 13:14:23:

Avg. rating:

Vrhunska kakovst. Izredno tiho delovanje. Praktično je slišati samo verigo in zobnik. Moč je izjemna, odziv brezhiben. Toplo priporočam.
Tacx
Trainer NEO 2 Smart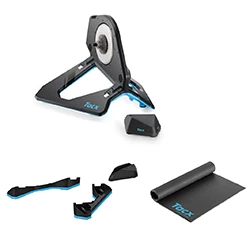 Tacx
Trainer Neo 2T Smart + Neo Motion Plates + rollable trainer