ExtremeVital.com
You can use product names, manufacturer names, keywords...
Product

description

Craft Active Intensity is an innovative baselayer that provides excellent function during intense activities in mild to cold conditions. Functional, stretchy fabric in combination with seamless design, bodymapped structures and athletic fit ensure great body-temperature management and comfort. The perfect choice for dedicated sports enthusiasts, Active Intensity Crew Neck works excellent for high-intensity workouts such as cross-country skiing, running and cycling. The jersey works perfect as a single layer and can be mixed with many tights.

Features:
Highly efficient moisture transport - Transports moisture away from the skin to the outside of the garment and keeps cool and dry during intense workouts
Bodymapped design
Seamless construction - Seamless design that eliminates chafing and offers a soft touch
Be Active offers optimal temperature management during workouts in medium-cold to cold conditions
Slim, ergonomic fit
Fabric: 55% Recycled Polyester, 45% Polyamide
Reviews
(5)
Reviews
M. M., Ribnica, 05/17/2022 13:52:41:

Avg. rating:

Odličen base layer. Dobra kavliteta za ta denar.
Super se obnese tudi z dresom s kratkim rokavom v milejših temperaturah.
Priporočam

M. C., Ljubljana, 04/23/2022 14:24:28:

Avg. rating:

Brezkompromisna in udobna spodnja majica za zimske dni. Obnese se v hladnem ali nekoliko toplejšem vremenu, saj dobro odvaja vlago.

D. K., Škofja Loka, 04/15/2022 14:58:56:

Avg. rating:

Craft Active Intensity je športna majica zasnovana za visoko intenzivne športe, kot so tek na smučeh, tek in kolesarjenje. Majica je popolno oblačilo za resne športnike, ki imajo daljše treninge saj ohranja dokaj suho telo in nudi udobje med intenzivnim treningom pri visoki intenzivnosti. Majica se lahko uporablja kot spodnja majica pri hladnejših temperaturah (base layer), kot samostojna majica v blažjem vremenu. Odlikuje jo brezšivna izdelava, učinkovit transport vlage, prilagojen dizajn, ki se oblikuje po teledu. Majica se tudi kljub močnejši preznojenosti ne razteguje ampak obdrži svojo obliko (preverjeno). Zelo priporočam.

M. S., Ljubljana, 04/02/2022 18:58:34:

Avg. rating:

Univerzalen base-layer za vse aktivnosti. Uporabljam ga za tek, kolesarjenje in smučanje. Zelo dobra kvaliteta izdelave in prijeten material. Številka M za višino 172cm in težo 73kg je idealna.

L. Z., Ljubljana, 11/16/2021 16:07:30:

Avg. rating:

dobro diha in hkrati zadržuje toploto, kupil sem jo za turno smuko, kjer se odlično obnese.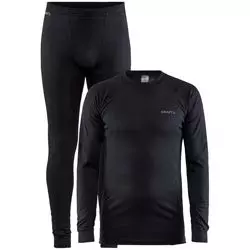 Craft
Jersey and pants Core Dry Baselayer set black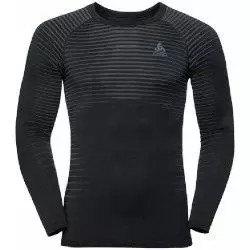 Odlo
Shirt Performance Light LS black