ExtremeVital.com
You can use product names, manufacturer names, keywords...
Product

description

When you have your mindset on a certain goal or adventure, you want to make sure your watch can also go the distance. With up to 120 hours of continuous exercise tracking Suunto 9 is built to last – just like you! Multisport GPA watch is designed for long, arduous training, racing, and extreme adventures. Suunto key features make them a leading brand in sports watch with advance technology. Intelligent battery modes, GPS navigation, Fusedtrack, 80+ sports modes, wrist hour, 100 m water resistant, barometer, and weather functions will give you more time, accuracy, and durability like no other! Whether its swimming, cycling, running, or multisports, Suunto 9 has many sport modes to specifically fit your activity. The robust Suunto 9 is made for long, arduous training and racing and extreme adventures.

Key features:
Measurements: 50 x 50 x 16,8 mm

Color touch screen display

Matrix d

isplay with 

320 x 300 

resolution
Water resistance: 100 m (according to ISO 6425)
Outdoor maps by satellite, terrain and topography in web by Mapbox, Google Maps & Android
GPS tracking and route navigation with waypoints and real-time breadcrumb trail
GPS based altitude information
Digital tilt compensated compass
Heart rate measurement with calories and Peak Training Effect
Suunto FusedSpeed™ for accurate pace
Support for over 80 sports with racing and interval modes
Triathlon and multisport mode (change sport on the go)
Running: real-time lap tables with pace and heart rate
Compatibility with Stryd running power
Cycling: real-time lap tables with heart rate, power and speed
Compatibility with Suunto Bike Sensor and BLE power meters
Pool and open water swimming: automatic intervals and heart rate (optional)
Training load with monthly totals and logbook for individual move summaries in Suunto App
Rest & Recovery to follow monthly race, training, recovery, active and rest days in Suunto App
Recovery time and feeling trends* to follow your recovery status
Personal bests by sport based on distance, cycling power and altitude
Planning tools with training programs and training plans from coach to watch available
Personal bests and training insight comparisons to your peer group available in Suunto App
Peer-to-peer coaching available in Suunto App
Discover new routes with heatmaps and plan your own routes in Suunto Movescount, transfer to watch and navigate

24/7 activity monitoring with steps and calories

Suunto 9 watches are Bluetooth Smart compatible, not compatible with ANT+
Take photos during your Move showing your current speed, distance, and more with the Suunto Movescount App for iOS and Android
Create a Suunto Movie of your Move with 3D map, key metrics and images with the Suunto Movescount App for iOS and Android
Share your experience instantly to your social media networks available in Suunto App
Follow your friends adventures via activity feed on Suunto Movescount available in Suunto App
Rechargeable lithium-ion battery with up to 15 days battery life in time mode

Percentage / Icon battery indicator

Customizable watch faces
Touch screen and button lock feature
Firmware upgradable   
Time, date
1 daily Alarm clock
Dual time feature
GPS timekeeping
Stopwatch timer
Vibration alert feature
Watch interface languages: EN, CS, DA, DE, ES, FI, FR, IT, JA, KO, NL, NO, PL, PT, RU, SV, ZH* i
LED backlight with configurable backlight brightness and mode
Metric and imperial units
Automatic daylight saving time
Bezel material: Stainless steel
Glass material: Mineral crystal
Case material: Glass fibre reinforced polyamide
Strap material: Silicone
Weight: 81 g
In the box: Suunto 9 G1 black watch, USB cable, quick guide, warranty leaflet
 Main benefits: 
NEVER WORRY ABOUT RUNNING OUT OF BATTERY - Three predefined battery modes – Performance, Endurance and Ultra – deliver from 25 hours to up to 120 hours* of recording time with GPS tracking on. When you start a recording, you'll get an estimate of how much battery you have left with the current mode. If it's not enough, switch to another mode at any time. Suunto 9 uses smart reminders based on your activity history, to help ensure you are fully charged for your next outing. If the watch notices you are running low on battery during an exercise, it will automatically suggest changing to a different battery mode.
SUUNTO FUSEDTRACK™ FOR MORE ACCURATE TRACK AND DISTANCE - On long ultra runs, battery life is often the limiting factor for recording distance and track accurately, as GPS is a heavy drain on the battery. Suunto's unique FusedTrack™ algorithm combines GPS and motion sensor data to improve track and distance accuracy. This allows you to extend battery life by lowering GPS power without significantly compromising accuracy. 
THOUSANDS OF HOURS TESTING IN THE TOUGHEST CONDITIONS - "When talking about training or racing tools for any adventure or endurance sport, the first thing I consider is durability, because it actually gives you the chance to just focus on what you need to do". Mauricio Méndez Cruz, Suunto triathlete and Xterra World Champion. Suunto 9 is designed and built to meet the demands of professional athletes. Tested to the extreme with thousands of hours of real use in the toughest conditions by Suunto's internal testing team and athletes all over the world, it is your trusted companion to confidently see you through any adventure!
SHARE YOUR PASSION WITH SUUNTO APP - Pair Suunto 9 with the new Suunto app to track all your adventures, as well as follow your long term trends, including daily activity and sleep. Easily share your greatest achievements and connect with others in the app community. The smart mobile connection keeps you on top of your daily business with incoming call alerts, messages and notifications to your watch. Suunto app is available in the App Store and Google Play.

TRAINING INSIGHT FEATURES:
Heart rate features:
Heart rate measured from wrist
RR interval
Heart rate in beats per minute
Records heart rate in swimming
Heart rate graph in real time
Calories
Peak Training Effect
Personal heart rate zones

Speed and distance features:
Cadence based speed and distance
GPS speed and distance
Chrono
Foot POD support with additional Bluetooth Smart sensor
Autolaps
Manual laps
 
Rest and recovery features:
Activity based recovery time
Feeling stored after training on watch
Recovery time daily view in watch 

Training load features:
Logbook on watch with Move details on watch
Move summary on watch with lap details on watch
Training load with totals by sport on watch
Training logbook for long term overviews
Training analysis with graphs, lap tables, maps, totals 
Training insights totals duration/distances by sport
Training types stored to Moves on watch

SPORT EXPERTISE FEATURES:
Swimming features:
Pool swim pace and distance
Openwater swim pace and distance
Records heart rate in swimming with Suunto Smart Sensor
Swimming time by pool length, lap, total
Swimming stroke rate, count and type
Automatic intervals
Interval lap table
Lap table for swimming analysis with stroke and pace
Interval guidance with swim pace/duration/distance training suppoert on watch
No Stroke efficiency (SWOLF)

Cycling features:
Cycling speed
Average speed in real time
Bike POD with speed/cadence support with additional Bluetooth Smart 
Bike power meter support: Bluetooth Smart
Bike Power (W), average and maximum (with power sensor) with additional Bluetooth Smart 
Bike Lap and Lap Maximum Power (with additional Bluetooth power sensor)
Power distribution and graphs with power sensor
Peak Power Curve for peak power outputs with power sensor
Real-time lap table with avg HR, avg power and avg speed
Interval guidance with power/speed/heart rate on watch
 
Running features:
Running pace
Suunto FusedSpeed™
Running power with additional Bluetooth Stryd sensor
Foot POD calibration: automatic
Lap comparisons
Average, max, lap pace in real time
Interval guidance with power/speed/heart rate on watch

Multisports features:
Change sport mode during exercise
Preconfigured multisport modes
Post-analysis of multisport exercise by sport available In Suunto App
Multisport exercise summary on watch

Sport modes features:
Customizeable sport modes and displays
Graphical displays in sport modes: heart rate, speed and altitude
Measurement parameters available on watch: >50 on watch
Numeric displays in sport modes: 1-7 fields, lap table view
Preset sport modes in watch > 80
Sport modes for specific purpose (racing, intervals, long training...)
OUTDOOR FEATURES:
Gps tracking & navigation features:
Satellite systems: GPS
GPS recording rate: Best, Good, OK
Waypoint and visual route navigation
Zoom levels in navigation
Auto zoom based on route shape
Breadcrumb trail in real time
Route planning with altitude profile
Outdoor maps by satellite, terrain and topography in web by Mapbox, Google Maps & Android
Heatmaps to browse and show on Moves
Route planning with heartmaps
Personal route library synced to watch
Point of interest (POI) navigation
GPS track analysis
Track logging, viewing and sharing
Intelligent battery modes: Performance, Endurance, Ultra, Custom

Altimeter features:
Barometric altitude
GPS altitude
Combined GPS and barometric altitude (FusedAlti™)
Altitude in daily mode
Total ascent/descent in exercise
Vertical speed in exercise
Automatic alti/baro profile
Log recording rate: 1 s
Resolution: 1 m
Range: -500 - 9999 m

Weather features:
Sunrise/sunset times
Storm alarm
Sea level pressure
Automatic alti/baro profile
Temperature 
Temperature display range:-20° C to +60° C / -4° F to +140° F
Temperature resolution: 1°C/1.5°F
Pressure resolution: 1 hPa 
Move altitude graph in Move summary on watch
GENERAL FEATURES:
Physical specifications:
Operating temperature:-20° C to +55° C
Storage temperature: 30° C to +60° C
Recommended charging temperature: 0° C to +35° C
 
Compass features:
Digital compass
Full tilt compensation
Declination correction
Direction scale: degrees
North indicator needle
Compass accuracy: 5°
Compass resolution: 1°
 
24/7 features:
Activity tracking: step counter, calories burned, activity targets (steps, calories), heart rate assisted daily calories tracikng, daily minimum heart rate tracking)
Sleep tracking: sleep duration (duration, average HR during sleep), bed times, time awake
 
Connectivity features:
Smartphone compatibility: most common models supported (check here for detailed compatibility list)
Connectivity (between devices): Bluetooth Smart
Phone notifications on the watch
Compatible with online sports communities: Strava, TrainingPeaks, MapMyFitness and others
Watch software updates from cloud
Campatible with Suunto Movescount and Suunto app
Reviews
(35)
Reviews
V. K., Izola, 09/10/2022 17:07:10:

Avg. rating:

Ker sem bil do sedaj uporabnik pametne ure Garmin Fenix, priznam da sem bil nekoliko skeptičen pred odločitvijo o nakupu. Sedaj lahko potrdim, da je bila odločitev pravilna, saj je Suunto 9 odlična ura, ki za ta denar ponuja daleč največ. Ura je kakovostno izdelana, menuji intuitivni, ko se na njih navadiš. Edino senzor srčnega utripa na momente izkazuje netočne vrednosti. Ob intenzivni dnevni uporabi, baterija v standardnem režimu, zdrži cca. 1 teden, kar je nekoliko manj od pričakovanja. Drugače sem zaenkrat super zadovoljen.

A. G., Brezje, 09/09/2022 06:19:17:

Avg. rating:

Odlična ura, ki za ta denar ponuja največ. Baterija zdrži zelo dolgo in je primerna za daljše in večdnevne aktivnosti. Je precej vzdržljiva in kakovostno izdelana.

M. R., Moravče, 09/05/2022 10:29:57:

Avg. rating:

Super ura, ki ima veliko funkcij. Baterija res zdrži dolgo.

S. S., Škofja Loka, 09/03/2022 15:37:07:

Avg. rating:

Enkratna ura.
Po mojem najbojši SUUNTO za enkrat.
Baterija je zelovzdržljiva (cca 20 dni).

R. M., Šentrupert, 04/09/2022 15:14:06:

Avg. rating:

Odlična ura, ki za ta denar ponuja največ. Baterija zdrži zelo dolgo in je primerna za daljše in večdnevne aktivnosti. Je precej vzdržljiva in kakovostno izdelana.

B. ?., Ljubljana, 03/27/2022 23:04:03:

Avg. rating:

super ura. Ima zelo vzdržljivo baterijo. Zelo pohvalno od Suunta, kjer vsake toliko časa posodabljajo uro in dodajajo izboljšave.

B. U., Moravče, 03/04/2022 18:48:47:

Avg. rating:

Baterija je res vzdrzljiva, ima toliko funkcij da vseh niti ne uporabljas

R. P., Novo mesto, 02/09/2022 20:10:01:

Avg. rating:

Baterija zdrži do 10 dni, odlično meri in prikazuje. Skratka, točno to kar sem iskal za zelo ugodno ceno. Edina stvar, ki jo morate vzeti v zakup je velikost ure...ni glih majhna (debelina).

T. K., Medvode, 01/10/2022 11:20:18:

Avg. rating:

super športna ura z vsemi funkcijami, ki jih so namenjene rekreativnim športnikom..

A. D., Predsvor, 12/11/2021 08:26:10:

Avg. rating:

Z uro več kot zadovoljna. Sebi sem jo kupila že v Oktobru. Ker sem bila tako zadovoljna sem jo kupila še partnerju.

. ., PREM, 11/29/2021 14:32:50:

Avg. rating:

Izredno zadovoljen z uro suunto in pa vašo spletno trgovino.

M. I., Zagorje ob Savi, 11/29/2021 11:05:31:

Avg. rating:

Odlična ura, lepega dizajna in vzdržljiva baterija. Zaenkrat je izpolnila moja pričakovanja.

S. I., NAKLO, 11/26/2021 12:31:05:

Avg. rating:

Do sedaj se je ura izkazala, najmanj izpolnila je moja pričakovanja. Mislim pa jo uporabljati tudi za alpsko smučanje, upam, da se bo tudi takrat tako dobro obnesla.

M. L., Straža, 11/01/2021 15:25:48:

Avg. rating:

Dober izdelek. Baterija zdrži toliko kot obljublja proizvajalec, cenovno dostopna, pa še izgleda prekleto dobro.

R. P., Šentjernej, 10/29/2021 22:33:28:

Avg. rating:

Po več kot letu dni uporabe lahko samo pohvalim tako videz kakor delovanje.

T. V., Šentvid pri Stični, 10/16/2021 10:29:59:

Avg. rating:

Super ura. Robustna in hkrati elegantna. Ekran je zelo dobro viden v vseh pogojih, natančna merjenja senzorjev in vzdržljiva baterija.

K. ?., Ljubljana, 10/11/2021 10:13:30:

Avg. rating:

Odlična ura za super ceno. Baterija zdrži dolgo, pri povezavi s HRM pasom še dlje.

S. P., Litija, 09/30/2021 11:36:03:

Avg. rating:

Odlična ura za super ceno. Baterija zdrži dolgo, pri povezavi s HRM pasom še dlje.
Priporočam nakup.

R. G., Ljubljana, 09/13/2021 13:27:34:

Avg. rating:

Ura je zadovoljila moja pričakovanja. Ocena 4 je samo zato, ker pri kolesarjenju ni natančnega merjenja srčnega utripa. Za natančno merjenje je treba dokupiti pas za srčni utrip. Vse ostalo je povsem izpolnilo pričakovanja.

B. P., Ljubljana, 09/10/2021 01:32:15:

Avg. rating:

Odlična špotna ura z gpsom po odlični ceni, priporočam nakup Suunto Senzor srčnega utripa Smart Heart Rate Belt za neprekinjeno merjenje srčnega utripa in ure.

B. P., Velenje, 09/08/2021 10:29:07:

Avg. rating:

Res odlična športna ura. Uporabljam jo za trail tek in gorsko kolesarjenje. Jo priporočam.

A. S., Medvode, 08/18/2021 21:42:34:

Avg. rating:

Super ura za svoj denar. priporočam a a a a

I. U., Prebold, 08/17/2021 21:32:04:

Avg. rating:

Izjemna ura, natančna meritev, povezljivost s športnimi aplikacijami, odlična baterija,…uporabljam za tek, pohodništvo, kolesarjenje in plavanje!

I. K., Višnja Gora, 08/12/2021 10:36:19:

Avg. rating:

Super ura za kolesarjenje, tek in hribolazenje. Baterija zdrži 1 teden.

M. P., Velike Lašče, 08/09/2021 02:11:02:

Avg. rating:

Odlična ura in odlična cena, baterija zdrži dolgo.
Prvi vtis je super in upamo, da tako ostane.

R. S., Tržič, 08/02/2021 20:48:01:

Avg. rating:

Vrhunska ura po dostopni ceni. Odziven zaslon na dotik, enostavna za uporabo. Možno zamenjati pašček in je lahko tudi bolj elegantna.

M. K., Logatec, 07/31/2021 12:07:24:

Avg. rating:

Odlična športna/outdoor ura. Kar dober upgrade od Ambit3. Ambit se mi je zdel malo bolj outdoor in 9ka malo bolj športna.
Je pa 9ka TOP ura, posebej na glede na cenovni okvir

G. L., Hotedršica, 07/28/2021 20:10:16:

Avg. rating:

Super ura za tek in kolesarjenje, baterija zdrži dolgo. Ugodna cena, zadovoljen z nakupom.

R. S., Petrovče, 07/27/2021 10:39:41:

Avg. rating:

Ura, ki nima konkurence. Z njo sem povsod, kjer je povezana s športom. Priporočam jo vsem aktivnim športnikom.

J. K., Medvode, 07/26/2021 12:22:38:

Avg. rating:

Natancna ura, baterija zdrzi tudi vecdnevne ture, zelo trpezno steklo in pa seveda super cena.

J. J., MURSKA SOBOTA, 07/12/2021 10:46:09:

Avg. rating:

odlična ura, natančna, trpežna, enostavna za uporabo.
zelo priporočam!
vredno nakupa in primerna cena

P. C., Grgar, 02/04/2021 12:28:31:

Avg. rating:

Ura vredna tega senarja. Baterija zelo dolgo drži vse normalno deluje zaenkrat brez napake.

R. S., Novo mesto, 06/07/2020 19:16:41:

Avg. rating:

Ura je top.GPS dela super.Primerna za vsakdanjo uporabo.Posebej primerna je za tek,kolesarjenje in hojo.

I. G., GRIŽE, 12/13/2019 10:33:41:

Avg. rating:

Ura me z svojimi zmogljivosti in funkcionalnostjo z vsakim dnem njene uporabe in analiz, ki jih nudi aplikacija vedno bolj razveseljuje.

Čeprav nisem ekstremni športnik in tehno frik , je njena uporaba zelo enostavna.

. ., Črnomelj, 12/13/2019 10:03:08:

Avg. rating:

Odličen pripomoček za vse športne navdušence! Prek aplikacije Movescount več kot zanesljivo "sodeluje" z iPhonom ...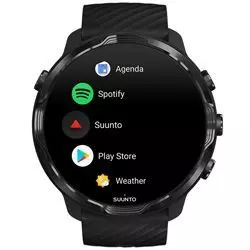 Suunto
GPS watch 7 black lime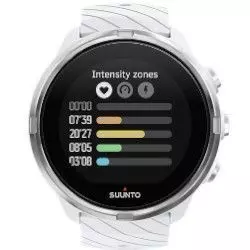 Suunto
GPS watch 9 white