ExtremeVital.com
You can use product names, manufacturer names, keywords...
Product

description

Created for the 70th anniversary of the brand, goggles Salomon Four Seven is a modern, progressive goggle with design details that recall Salomon's heritage of innovation. Four Seven boasts a unique anatomical fit, wide field of vision, and a cylindrical Sigma™ lens that amplifies contrast, enabling the eye to read terrain variations better, especially in sunny or cloudy light conditions. Salomon lenses ensure maximum visual acuity so you can see things sooner and react faster. Premium performance for various light conditions. Sigma™ lenses amplify contrast, enabling the eye to read terrain variations in all light conditions

Sigma Silver lens that amplifies the contrasts is great for most of light conditions, it works the best in sunny or cloudy weather. 

Features:
Mono-Material Soft Frame - Designed with a soft material compound to provide good comfort and perfect fit to all faces
Standard Strap for right adjustment around your helmet & beanie
Double Layer Face Foam which offers soft and comfy PU foam with velvet layering for great skin contact
Custom ID fit - Adaptive foam complexes for an advanced fit & anatomical comfort whatever the face shape
Medium fit, engineered for universal faces, mainly dedicated to men
Airflow System designed to keep the inner lens dry and fog free
Standard or original tint of the lens, developed to guarantee optical acuity and to ensure sharp perception of the obstacles surrounding you
Anti-Scratch finishing with high resistance and long-lasting durability
Cylindrical Lens which has a 2D flat appearance. It offers a wide horizontal angle of vision, slightly limited vertically
Injected top quality and shock resistant lens, which provides a sharp vision and optical perfection
SIGMA Technology is a Salomon Innovative Lens Solution that impressively amplifies color contrast on snow, enabling the eye to instantly read terrain variations in a wider range of light
Lens filters out 100% of UV rays, preventing all eye damage caused by sun.
Helmet Compatible
Microfiber goggle bag included
Reviews
(4)
Reviews
L. S., Ljubljana, 03/20/2022 11:28:35:

Avg. rating:

Navadna ocala za smucanje. Vecinoma v nahrbtniku, uporabim ob slabem vremenu.

B. I., Domžale, 03/09/2022 18:31:44:

Avg. rating:

Žena je navdušena nad uporabnostjo in izgledom. Vsekakor dobra in lepa očala!

K. ?., Krško, 03/04/2022 11:51:50:

Avg. rating:

Odlična očala za super vidljivost na smučišču. Vsekakor vredno nakupa.

R. S., Krsko, 02/28/2022 19:45:16:

Avg. rating:

Očala se odlično obnesjo v različnih vremenskih pogojih. Žena je zelo zadovoljna.
Atomic
Goggles Count S white women's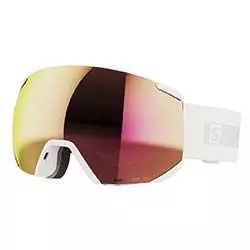 Salomon
Goggles Radium 2023 Multilayer white women's