ExtremeVital.com
You can use product names, manufacturer names, keywords...
Product

description

The Black Diamond Raven Ice Axe with Grip takes BD's classic mountaineer's piolet, the Raven, and combines a new dual-density rubber grip and an updated Slider Leash for increased security and versatility. Now redesigned and lighter, it has an updated investment-cast, stainless steel head ergonomically improved for increased comfort while walking. The updated pick and adze geometry allows for more secure placements and efficient chopping, and the revamped spike adds better bite on that icy placements with improved plunge-ability. The durable aircraft-grade aluminium shaft is also improved with a trapezoidal cross-section for a more comfortable, better grip.

Features:
Lenghth: 55 cm or 60cm
Durable, aircraft-grade aluminum shaft
Investment-cast, one-piece stainless steel head with a large hole for a carabiner
Comfortable, dual-density molded grip
Pick's curve and teeth engineered for secure self-arresting
Equipped with Slider Leash
Head: Head, Spike: stainless steel
Weight With Leash: 486 g (55 cm) in 520 g (65 cm)
Reviews
(1)
Reviews
P. V., Tržič, 01/05/2021 10:14:10:

Avg. rating:

Odličen raven cepin, klasične oblike in uporaben za zimske pristope. Izredno lahek.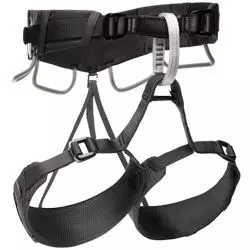 Black Diamond
Harness Momentum 4S black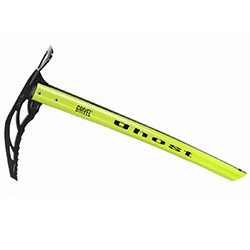 Grivel
Piolet Ghost 45cm green