ExtremeVital.com
You can use product names, manufacturer names, keywords...
Product

description

The Castelli Pro Thermal LS jersey gives you some extra warmth on those first cool fall days or the last remnants of spring. The secret is in the fabric. Compared to the standard Warmer fabric, Castelli has lightened it up a touch and added some spandex/ elastane for more stretch. It has a close-to-body aero fit without feeling too tight. It's a performance piece for every ride, with the drop-pocket construction with 3 open pockets and YKK® Vislon® zipper for easy one-handed adjustment.

Why would you want a thermal jersey that birngs less warmth? One situation is in conditions that are too cool for a short-sleeve jersey and it just feels better to cover up and add this for bit of warmth. Another situation is a higher-intensity ride where it's easy to overheat. In keeping with the pro technical function of this jersey, Castelli has kept the design details very clean, with an embossed stripe across the chest and a reflective vertical stripe on the pocket for low-light visibility.

It is one of the favorite pieces among the sponsored pros ... it is a bit lighter and a bit stretchier and features a closer cut for an aero fit.

Features:
Ideal for cool conditions, with or without a vest
Mid-weight Warmer X-Stretch brushed fabric
Race cut with highly elastic fabric provides close-to-body fit without feeling tight
Drop-pocket construction (with 3 open pockets) for better fit around waist and better pocket position
Easy-sliding YKK® Vislon® zipper
Embossed line across chest
Reflective vertical stripe on center pocket
Slim fit
Materials: 80% polyester, 20% elastane
Reviews
(4)
Reviews
A. S., Kobarid, 01/26/2023 19:07:54:

Avg. rating:

Udobna majica, prijetna za nošenje nekoliko dolgi rokavi glede na številko.

A. P., Šempas, 12/12/2022 10:46:04:

Avg. rating:

Majica je izdelana zelo kakovostno. Sicer zelo oprijet model s visokim ovratnikom. Primerna za zgodnje jesenske in pomladanske dni.

B. B., Trbovlje, 10/10/2022 22:26:53:

Avg. rating:

Dobro izdelana majica, lepo blaži mraz pri spustu in nič ne zašvicam pri vzponu. Edina pripomba, da ima Castelli zelo majhne številke, komaj sem našel primerno velikost.

B. T., Kočevska reka, 09/28/2022 21:07:14:

Avg. rating:

Že naziv artikla pove, da gre za uporabo v hladnejših dneh spomladi ali jeseni. Lahko tudi v kombinaciji z spodnjo majico ali dodatno vetrovko-odvisno od temperature. Zelo uporabna majica-priporočam.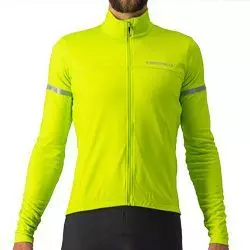 Castelli
Thermo jersey Fondo 2 FZ lime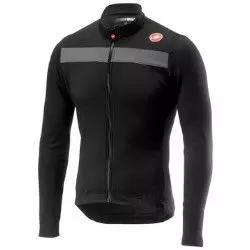 Castelli
Thermal jersey Puro 3 FZ black