ExtremeVital.com
You can use product names, manufacturer names, keywords...
Product

description

Fox Defend Pro thermal gloves have a premium low profile and it's treated with DWR. This gloves will keep you warm on long winter rides. Durable, with high-level performance and a low profile fit, offers comfort while riding. The DWR treatment sheds water and works to keep your gloves clean and dry while the waterproof Clarino® leather palm maintains a grip on wet mountain bike rides. Touchscreen compatibility is an additional feature for taking those epic mid-ride photos when the weather breaks. Last but not least, Axo suede palm provides excellent bar feel in all conditions.

No worries: cold, rain, extreme conditions - Fox Defend Pro gloves - excellent for the most demanding conditions.

Features:
Axe Suede slim fleece waterproof palm to keep your hands dry and warm
Durable Water Repellent finish sheds moisture, dirt, and debris
Longer compression molded cuff for a secure fit that keeps the elements out
Conductive thread at index finger and thumb for touchscreen compatibility
3 Layer softshell fabric to protect against the toughest elements
Material: 66% Polyester, 29% Polyamide, 5% Elastane
Reviews
(11)
Reviews
J. V., Celje, 01/30/2023 10:05:08:

Avg. rating:

Dobre rokavice za zascito pred mrazom jeseni in spomladi. Izbira velikosti naj bo na tesno. Vzel M namesto L.

L. K., Ljubljana, 01/04/2023 14:16:07:

Avg. rating:

Rokavice so dovolj tople za temperature do 0 stopinj. Se ne raztegnejo preveč in lepo držijo roko.

B. V., Celje, 01/03/2023 20:06:26:

Avg. rating:

Zelo udobne rokavice za kolesarjenje, dober oprijem, podrobnejši komentar pa bo mogoč po malo daljši uporabi.

. ., DOL PRI LJUBLJANI, 10/03/2022 21:26:52:

Avg. rating:

zelo udobni za kolesarjenje, dober oprijem. uporablja jih sin in nad njimi nima pripomb.

P. S., Izola, 07/11/2022 09:18:54:

Avg. rating:

Za mrzle zimske dni tako za gorsko kot cestno kolesarjenje. Še vedno dober občutek na zavorah tudi za spuste. Dobro grejejo tudi pri cca 5 stopinjah.

M. S., Log pri Brezovici, 01/29/2022 16:50:28:

Avg. rating:

Super rokavice za prehodne dni, kot tudi za krajšo vožnjo v zimskih dneh. Edina slabost je, da so gumjasta tipala na prstih za uporabo telefona odpadla po prvi vožnji.

M. M., LJUBLJANA, 01/25/2022 12:14:46:

Avg. rating:

Rokavice se dobro prilegajo, enostavno odstranijo, ne prepihajo in so zelo tople.

L. ?., Šmarje-Sap, 11/02/2021 12:55:07:

Avg. rating:

Super zimske rokavice. So toplejše in se lahko voziš celo zimo.

J. A., Brezje, 10/21/2021 15:02:23:

Avg. rating:

Zelo dobre rokavice, ki zadržijo mrzel veter in nižje temperature pred ohladitvijo rok.

T. D., ŠKOFLJICA, 11/23/2020 21:08:33:

Avg. rating:

Rokavice Defend Pro so na zunanji strani narejene kvalitetno, so dokaj vodoodporne in tople do temperatur okoli +3 do +5C in višje. Z notranje strani je kvaliteta zelo vprašljiva, praktično se obraba pozna v prvih 10 minutah uporabe z odpadanjem gumjastih vstavkov na kazalcu (zaviranje) in palcu (menjalnik). Tega ne bi pričakoval od Fox-a.

D. P., Žalec, 11/16/2020 10:08:29:

Avg. rating:

Rokavice se lepo prilegajo na roki, so tople in primerne za jesensko kolesarjenje.
Slaba stran je, da so se na dlaneh na prstih že ob prvi uporabi pričele luščiti touch-screen vstavki.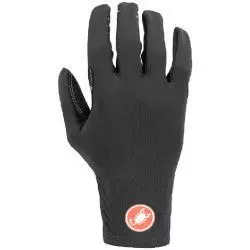 Castelli
Gloves Lightness 2 black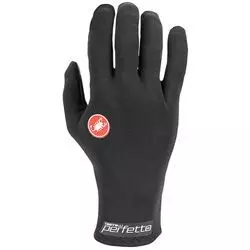 Castelli
Gloves Perfetto Ros black