ExtremeVital.com
You can use product names, manufacturer names, keywords...
Product

description

Singletrack flow finder - Combining the lightweight efficient DNA of the Epic EVO with the benchmark handling and capability of the new Stumpjumper EVO, the new Stumpjumper is the ultimate singletrack flow finder. This bike is for all-round trail bikers that wants light but yet capable bike!

Specialized massaged the kinematics of the Stumpjumper suspension to bring out the very best all-round performance possible in a 130mm package. Countless hours of suspension lab development and field testing created a refined mid-travel ripper that eats big terrain like a gravity fed beast, handles like a dream everywhere, and climbs like it has a motor.

With S-Sizing geometry of the bike you can choose the perfect bike that fits your riding style. This bike is long, low and slack, with a short offset fork and a steeper seat tube angle. These numbers combine to make your ride more stable, more carvealicious, more comfortable climbing, more better everywhere. To hone handling to your style and terrain, simply switch the FlipChip at the rear shock eye to change bottom bracket height by 7mm and headtube angle by one-half degree. Low and lax delivers more stability, while high and steep makes for a more nimble ride. Little details also jump out to surprise you, like a newly designed ribbed chainstay protector that makes chain slap a thing of the past and nearly silences the drivetrain.

The build of Stumpjumper is with SRAM SX 12-speed components, RockShox 35 Silver 140mm fork, X-Fusion 130mm rear suspension, and 29 alloy wheels.

Frame:
M5 alloy chassis and rear end, asymmetrical design, 29 Trail Geometry, threaded BB, 12x148mm dropouts, 130mm of travel

Fork: 
RockShox 35 Silver, Solo Air, 44mm offset, rebound adjust, TurnKey lockout, 15x110mm, 140mm of travel

Rear Shock: 
X-Fusion 02 Pro RL, Rx Trail Tune, rebound adjust, lockout 

Brakes: 
Tektro Gemini Comp, hydraulic disc, resin pads, 200 / 180mm rotor

Drivetrain: 
SRAM SX Eagle (rear) / SRAM SX (shifters) / 12 Speed

Crankset: 
SRAM SX Eagle, 30T

Cassette:
SRAM PG-1210 Eagle, 11-50T

Seat post:
TranzX dropper, 34.9mm, S1-S2: 100mm, S3: 120mm, S4-S6: 150mm

Rims: 
Double-wall alloy

Front tyre:
Butcher, GRID casing, GRIPTON® compound, 29x2.3"

Rear tyre:
Purgatory, GRID Casing, GRIPTON® compound, 29x2.3"

Click on suspension calculator for help in setting the suspension.

* Specifications are subject to change without notice.
Reviews
(9)
Reviews
T. S., Medvode, 08/20/2023 18:23:56:

Rating:

Pozdravljeni, sem zelo zadovoljen s kvaliteto in popustom oz. s postrežbo.
Lep pozdrav,
Tomaz.

A. ?., Brezovica, 12/30/2022 10:26:53:

Rating:

Moje prvo kolo polnovzmateno. Sem zelo zadovoljen. Se posebaj mi je vsec, razmerja visine in dolzine kolesa. Pomoc pri nakupu v trgovini na Trzaski zelo pohvalna in strokovna.

M. S., Šempeter, 07/01/2022 21:41:00:

Rating:

Zdravo,
Zanima me kakšne izkušnje imate z tem kolesom po
Kakšnjih asfaltnih poteh, če se prav tako lepo pelje.
Velikokrat je potrebno do hriba po cesti:)

M. D., Cerknica, 05/04/2022 13:08:20:

Rating:

Vrhunsko poolnovzmenteno kolo, najboljša izbira za ta denar če si "začetnik" ...

M. U., Ivančna Gorica, 04/11/2022 22:12:34:

Rating:

Odlično kolo za začetnike in spoznavanje z MTB. Splača se narediti par krogov pred trgovino za ustrezno izbiro velikosti.

A. J., Krško, 04/02/2022 10:05:55:

Rating:

To kolo je za tako ceno vrhunsko sploh, če si začetnik tako kot jaz. Vsak skok, ki ga narediš, imaš občutek kot, da bi priletel na posteljo. Edino, kar me moti je, da pedala niso vključena h kolesu.

U. S., Igg, 07/16/2021 18:59:16:

Rating:

Super kolo. Zamenjal pa bom zavore, ker bi lahko bile boljše. Tudi kak kilogram bi lahko bil lažji.

M. ?., KAMNIK, 06/22/2021 10:10:05:

Rating:

Glede na to da sem nov v vožnji z FS kolesom, sva se hitro spoprijateljila, odlično vodljivo kolo. PRIPOROČAM

J. P., Križe, 06/12/2021 11:17:53:

Rating:

Za moje potrebe vrhunsko kolo.zelo sem zadovoljen. Prihazna postrežba in hirri odgovori. Hvala
Janez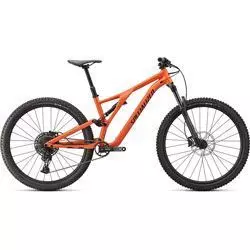 Specialized
Mountain bike Stumpjumper Alloy 2023 satin blaze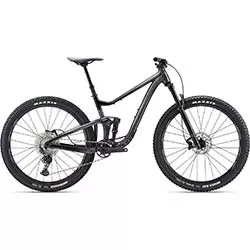 Giant
Mountain bike Trance 29 2 2023 metallic black