ExtremeVital.com
You can use product names, manufacturer names, keywords...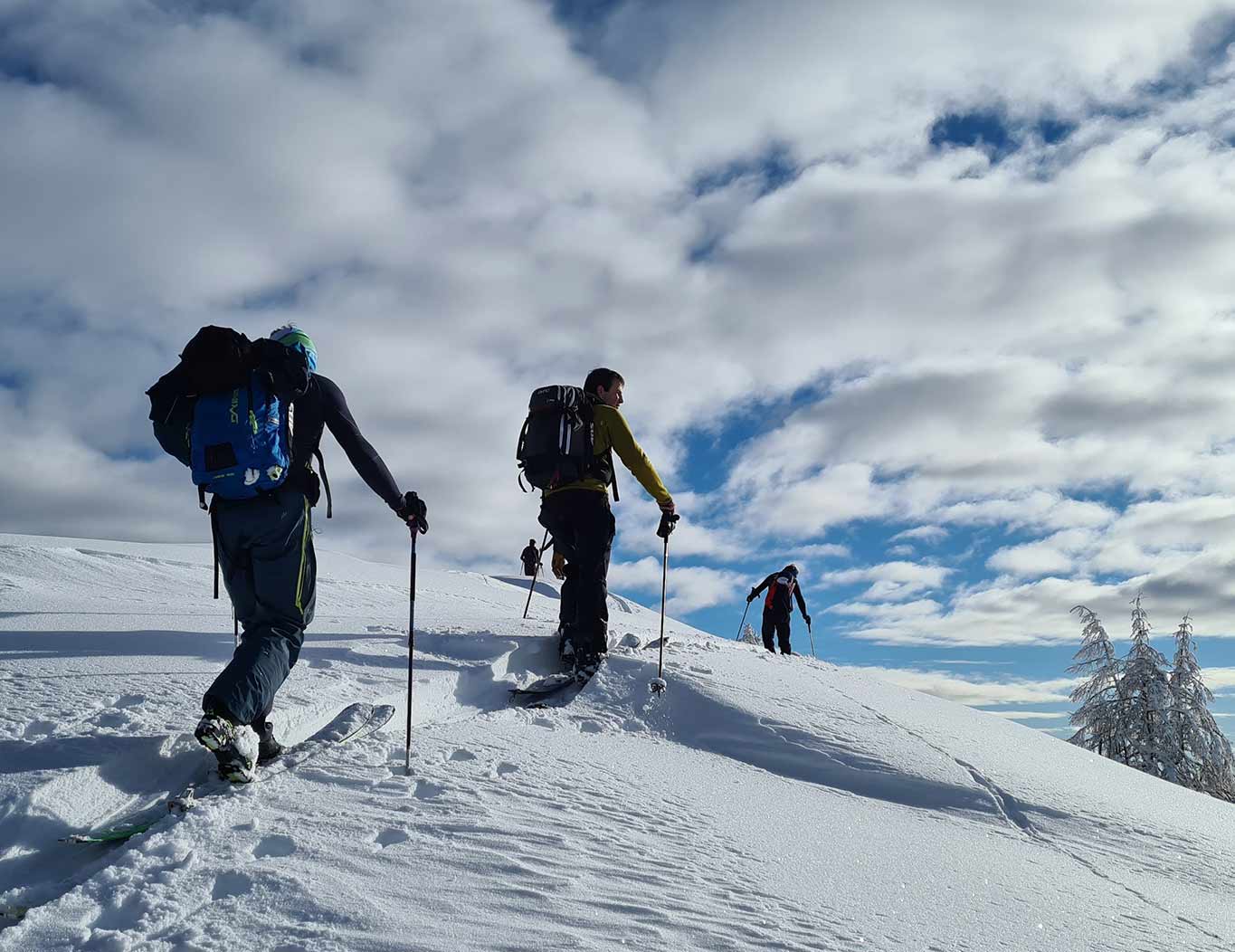 Advice for ski touring and what gear to buy
, Author: Luka
Ski touring is an activity attracting more and more ski buffs every winter. Off-piste skiing means freedom and adventure off of the groomed ski slopes.
More and more people want to experience the joyful skiing in deep snow high in the mountains, in peace and seclusion. And the best way to do it is ski touring.
What is the charm of ski touring, exactly?
- Skiing off-piste means peace, seclusion and a perfect consumption of snowy mountains,
- it is a top quality physical workout for the whole body,
- one learns a lot of mountaineering skills,
- one hangs out with exceptional people sharing the same passion,
- INTACT POWDER,
- long descents without avoiding other skiers,
- enjoying in making progress. If the first ascent feels extremely strenuous, the thirtieth will be a piece of cake ;)
The level of skiing skills needed?
O. K., something must be clear. You must know how to ski and it is even better if you are self-confident off-piste skier in various snow conditions. The latter often vary in the mountains, from the perfect powder to ice floes and snow crust. When you set yourself to do ski touring is it recommended that you are at least minimally physically prepared because you need to reach the top of the hill with your own strength.

But don't let this discourage you. You can start ski touring on a ski slope that allows ski tourers to hike. Ski slopes are great for first ski touring steps as you will learn the correct way of ascending, turning, and you will also get familiar with the ski touring gear.

When you feel self-confident enough, start with easier, well-trodden ski touring summits. Believe us, the feeling of progress is outstanding and it will get easier and easier. You can look up for lots of good ski touring ideas in the book Veliki turnosmučarski vodnik (ski touring guide book).
But before you venture into the mountains at winter, don't forget to check the avalanche bulletin and weather forecast, and to follow the weather report a few days ahead of a ski tour.

Check the snowfall, wind and temperature data. All these factors have significant influence on the general conditions. Attend a winter mountaineering course.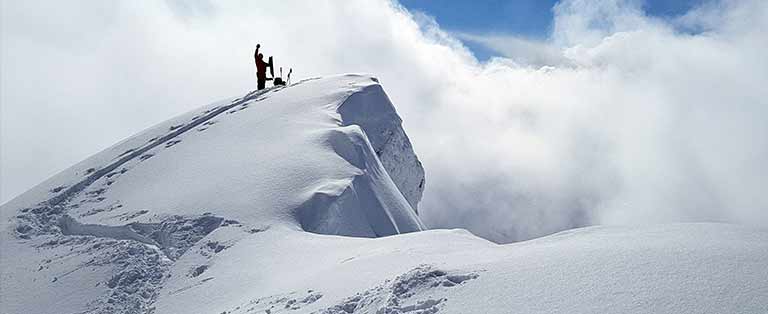 Ski touring equipment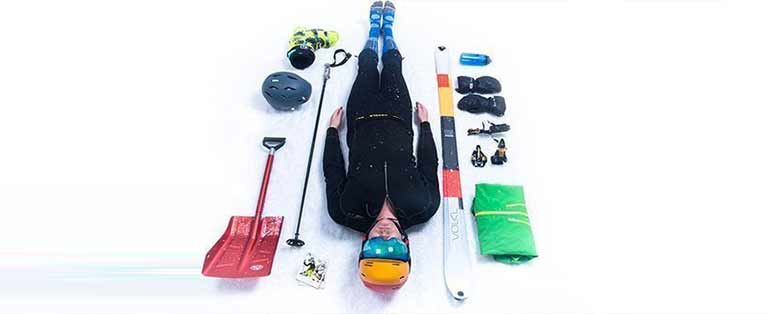 Basic ski touring equipment that you need consists of:


- touring skis,
- touring bindings,
- skins,
- touring boots,
- telescopic poles..
You definitely must not leave a ski slope without the mandatory avalanche rescue set, which consists of an avalanche transceiver (beacon), a probe and a shovel. If you already do ski touring or you are a beginner, you need to consider buying crampons, an ice axe and an avalanche airbag pack (backpack).
Touring skis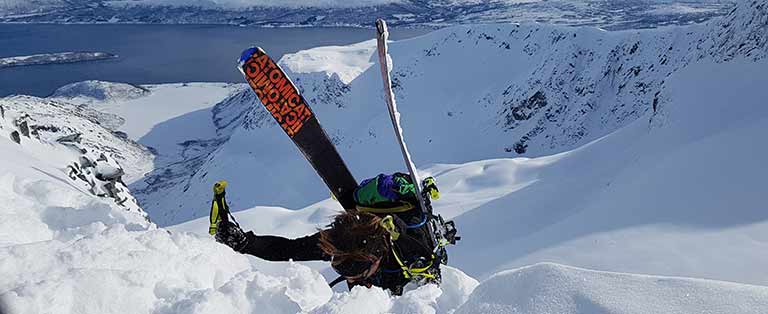 You need touring skis to do ski touring. The main characteristics of touring skis are low weight and good buoyancy in powder snow, and good riding characteristics in all snow conditions. There are male and female touring skis, all of them lately getting a bit wider, 90 to 100 mm under the boots, and equipped by different rockers for better buoyancy in snow powder.
Touring bindings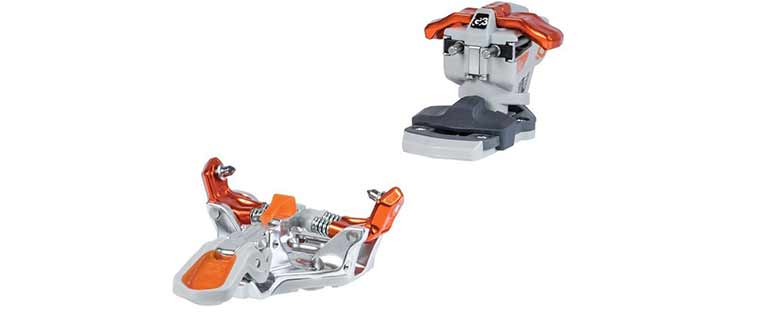 The main feature of touring bindings is to enable us walking uphill. The front part of the bindings is secured and enables to lift the heel. When you reach the summit and you are ready to descend, you just press your heel down to completely secure touring boots to the position for descent to the valley. Same as with the alpine ski bindings.
Touring bindings in combination with touring boots and skins form the full set of gear for effective and comfortable gliding over a snow covered terrain.

We divide touring bindings to:
- Technical touring bindings. The fastening system is based upon a set of pins which secure the toe and heel parts in the right position. To use these bindings you need touring boots compatible with pins. Best known manufacturers are Dynafit, G3, Plum and many more. Their edge is low weight, low impact to the natural flex of skis and they are comfortable to walk in them.

- Touring ski bindings with a frame feature a form where there is a plate between the front and rear part, forming a frame. This means that boots are all the time secured to the front and rear part of the bindings and you lift the bindings together with the boots while walking. Usually these bindings are heavier, on the other hand you don't need touring boots compatible with pins.

- Hybrid ski touring bindings are lately becoming more and more popular. Best known model is Marker Kingpin. The front part of hybrid bindings is based on the tech binding system that enables natural walking, while the rear part is the same as with the alpine ski bindings. This system is also one of the safest systems according to the corresponding standards. Due to their versatility, they are usually the choice of the more aggressive freeride skiers.
Touring boots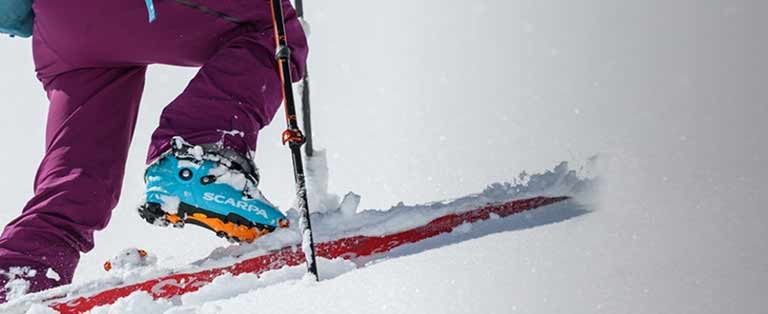 Touring boots enable us to walk in them, allowing the ankle to move forward and backward to hike easier. This type of boots are slightly lighter than classic ski boots and their sole is made of rubber which provides firm grip while walking without skis, obviously something quite often with ski touring.
They come in different levels of resistance (a.k.a. flex) the boot provides as you bend your ankle forward. Same as with classic ski boots. The higher the flex number is, more force is needed to bend the boot forward.
By the rule, better skiers with better physical condition decide for stiffer boots, while the beginners and less aggressive skiers prefer softer boots. In principle, stiffer boots are also heavier.
This kind of boots are mostly compatible with technical ski touring bindings and all boots are compatible with automatic crampons.
By the right touring boots choice even the longest ski tours shouldn't be a problem, if the skier is physically prepared well enough, of course. You can choose between female and male touring boots.
Skins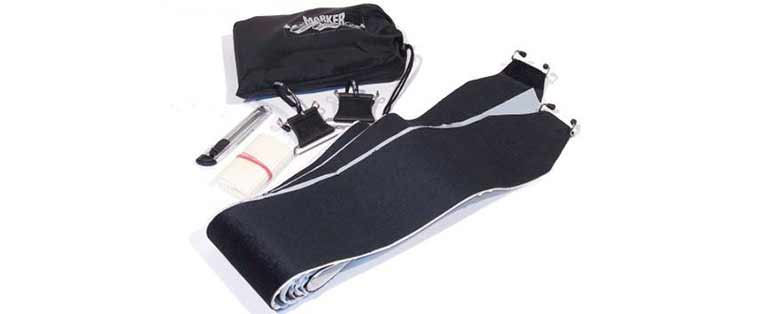 Skins are actually furry strips of fabric that you stick to the base of the skis while ascending. Most of the skins are attached to the skis by the help of glue and with a tip bail or hook to the tip or tale of the ski.
When choosing the right skins you need to pay attention to the material they are made of, their width and length. When you buy a new pair of skins, you need to carefully trim them so that they fit perfectly to the length and width of your skis. Ski curbs must be visible and skins must not cover them.
Types of skins and their characteristics:
- Synthetic skins sare usually made of nylon. This is an exceptionally durable material that provides excellent grip, but doesn't glide as good as mohair and weights more.

- Mohair skins combine excellent grip and glide good, are lighter, but more expensive than nylon skins.

- Combination nylon/mohair skins is a good compromise between gliding and grip, weight, durability and price.
Avalanche rescue set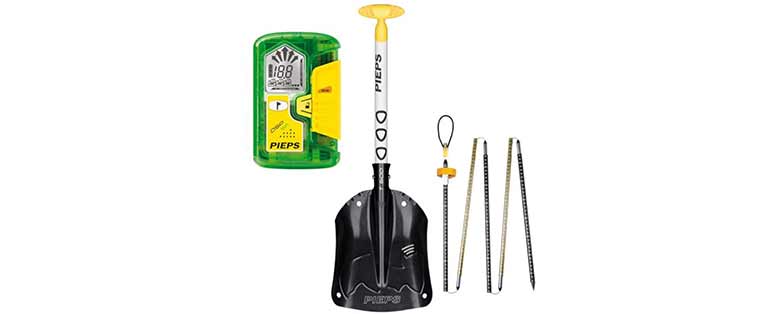 Avalanche rescue set is something that can save your or your friend's life if caught in an avalanche accident. An avalanche probe, a shovel and a transceiver are mandatory pieces of mountaineering gear at winter. Not only while ski touring, but in general.
An avalanche transceiver is basically an electronic device that transmits and receives a signal by which we can locate a person buried under the snow. You can choose between basic models and advanced models with lots of functions that are being used by the most experienced and professional mountain guides.
Before you start a tour you need to check if the transceiver is turned on – transmits and receives the signal. You can test it with your friend and at some starting points there are permanent beacons for testing signals. When you go on a tour, always set the transceiver to transmit the signal.
An avalanche probe helps you to precisely locate the position and depth of a person buried under the snow. This is actually a foldable aluminium or carbon pole that we always need to carry in our backpacks, along with a shovel. In case of emergency, we locate a person by continuously piercing the snow with the probe.
A shovel is the basic piece of the avalanche rescue set and always needs to be in our backpacks. Only with a good shovel you will be able to dig out a friend buried under the snow. We advise against buying plastic shovels that simply aren't sturdy enough to dig solid and packed snow.
WARNING: No matter how modern your avalanche rescue set is, it will not help you if you don't know how to use it. Therefore we honestly advise you to attend an avalanche rescue course with Vertical Adventures Slovenia. You will learn how to use it, how to assess the avalanche situation and how to (re)act in the mountains in winter.
Avalanche backpacks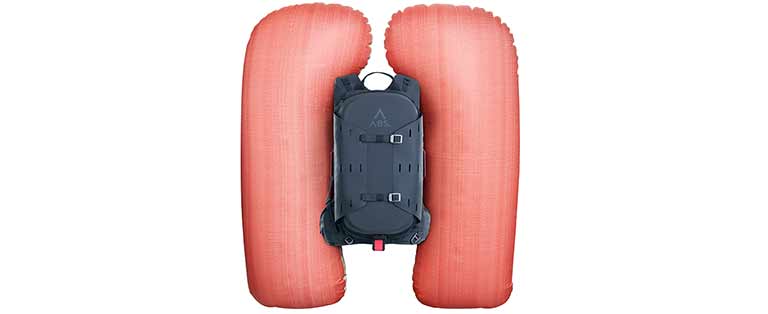 The main purpose of the safety system of an avalanche backpack is to prevent you to be drawn under the snow in case of being caught in an avalanche. When we find ourselves in an avalanche we activate the airbags by pulling the handle, and the air cushions immediately expand the volume of our body for additional 170 litres.
170 litres is usually enough so that our body stays on the surface of an avalanche. The closer you are to the surface, the lesser the chance of getting injured while the probability your friends finding you in time increases.
Ski touring clothing
When considering ski touring clothing it is important that you always take into the account that when ascending you will get hot, that at the summit it is often cold and windy, and when descending you need to be protected from the cold and spraying pow.
It applies to ski touring also that the best way is to follow rule of layering. Meaning to wear more layers of technical clothing that provide moisture transport, thermoregulation and prevent water and cold to reach our body. While ascending wear thin gloves and change them for thicker and warmer ones while descending.
Merino wool base layer proves really effective (shirt and knickers), with Gore-Tex pants and thermal pullover and Gore-Tex jacket. While ascending only a shirt and a pullover will do if it is not so cold, while descending you really need a jacket. Don't forget to put a shirt in your backpack, you will need it at the summit. For extremely low temperatures we recommend a light down jacket.
Ski tourer's mandatory equipment (summary)
- touring skis, touring bindings, touring boots, skins and poles
- ski crampons
- in some conditions you might need an ice axe and crampons, a climbing belt and a rope
- a shovel, a transceiver and a probe (avalanche rescue set)
- an avalanche backpack
- first aid kit
- an isothermal foil
- two pairs of gloves
- ski goggles
- food and water
- a mobile phone
- LOTS OF EXPERTISE IN WINTER MOUNTAINEERING CONDITIONS
Ski touring workshop
We invite you to watch the first Vertical Adventures Slovenia ski touring lesson. We recommend it to all ski tourers.