ExtremeVital.com
You can use product names, manufacturer names, keywords...
Product

description

Thule´s most compact and lightweight bike carrier for everyday use (3-4 bikes). Designed for a 13 pin powerplug, but will also work on a 7 pin powerplug, with an additional Thule 9906 adapter

Features:
Load capacity Bikes 3(4)
Load capacity (kg) 60 kg
Easy mounting and adjustment of the carrier before closing the tightening handle thanks to the tow bar coupling's initial stability.
Possible to increase the load capacity to four bikes by adding a 4th bike adapter.
Easy mounting of bikes through detachable bike arms.
Carries bikes with large wheelbases thanks to single action extendable wheel holders.
Easy boot access even with bikes mounted thanks to smart foot pedal tilt.
Simple to fold flat and store – fits most car boots.
Lock your bikes to the bike carrier and your carrier to the tow bar (locks included).
Pre-assembled, no tools required.
Powerplug: 13 pin
7 pin powerplug will provide energy for turn signals, stop lamp ans registration plate lamp, while the 13 pin powerplug will also enable reversing lamps and disable the rear parking sensor while driving reverse
With the additional Thule 9906 adapter you will be able to plug the towbar into a 7 pin powerplug
Fulfils the City Crash norm.
Reviews
(55)
Reviews
F. F., Garbagnate Monastero (Lecco), 09/30/2022 10:05:23:

Avg. rating:

Prodotto di qualità come da descrizione, tempi di consegna ottimi

B. ?., Selnica ob Dravi, 09/22/2022 13:22:46:

Avg. rating:

Vreden, vsakega centa. Thule je le Thule. Potem pa še prodajalci v MB prave legende, ti polepšajo kar teden ne dan ... priporočam Thule kot trgovino v MB.

T. R., Mengeš, 09/15/2022 10:23:22:

Avg. rating:

Zelo sem zadovoljna z izdelkom - je praktičen, zanesljiv, zelo uporabniku prijazen in kompakten. Tudi ustrežljivost ekipe v LJ je bila na nivoju - takoj so vse uredili in v eni uri sem lahko izdelek prevzela.

M. S., Postojna, 09/06/2022 00:00:24:

Avg. rating:

Odličen nosilec, lep dizajn ,kvalitetna izdelava, preprost za uporabo, preprosto Thule :)

G. U., Lukovica, 09/03/2022 11:16:31:

Avg. rating:

Thule je odlicna znamka in kot se spodobi je vrhunski nosilec. Kljub daljsi vožnji 1000km se je nosilec in kolesa niso za malenkost prestavili. Priporocam nakup.

G. M., Višnja Gora, 08/27/2022 11:02:26:

Avg. rating:

Odlično, saj zdaj vzamem kolo večkrat na pot. Prej se mi na streho ni ljubilo "šraufat" prtljažnika. Tudi lepo se ga da pospravit na steno in ne zavzame nič več prostora, kot strešni nosilci. Tudi namestitev je lažja. Prej za na streho sem se umazal, če sem sam nameščal.
Da strnem. Veliko bolj praktično.

B. Z., Maribor, 08/23/2022 10:09:41:

Avg. rating:

Kot se za Thule spodobi - odlična kvaliteta, praktičnost. Najboljši način prevoza koles.

B. D., Starše, 08/21/2022 13:47:55:

Avg. rating:

Vrhunski nosilec. Vreden nakupa. Zelo kvalitetna izdelava in enostaven za uporabo.

B. S., Pragersko, 08/17/2022 13:38:40:

Avg. rating:

Kvaliteten nosilec. Enostavna prva sestava. Zložen gre lepo v prtljažnik.

R. G., Novo mesto, 08/16/2022 10:38:20:

Avg. rating:

Vreden svojega denarja. Zložen se lepo pospravi v prtljažnik avta.

M. G., Monte San Savino AR, 08/10/2022 22:56:11:

Avg. rating:

Ottimo prodotto,secondo le aspettative. Arrivato nei tempi previsti!!! Ottimo anche il prezzo

T. R., Dravograd, 08/03/2022 11:02:23:

Avg. rating:

Pragmaticen, enostaven in zelo izboljsan nosilec (glede na stare verzije). Zelo zadovoljni

S. Z., Tišina, 07/19/2022 11:07:32:

Avg. rating:

Kvalitetno, zanesljivo, varno in enostavno. Na začetku sem iskal cenejše možnosti, ampak zdaj na koncu ugotavljam, da je vredno svoje cene. Vendarle prevažaš kolesa, ne pa vreče krompirja.

S. H., Podnart, 07/13/2022 07:16:28:

Avg. rating:

Zelo enostavno za uporabo in kvalitetno ter zanesljivo. Sprejemljiva cena.

M. M., Domžale, 07/11/2022 10:29:28:

Avg. rating:

Zelo praktičen in odlično konstruiran nosilec. Priporočam vsem, ki ste za enostavno in zanesljivo pritrjevanje koles.

M. L., Žužemberk, 04/27/2022 20:58:21:

Avg. rating:

Enostavno, praktično in zanesljivo. Če je možno, naj vam prvo montažo nosilca na kljuko naredijo v trgovini.

. ., LJUBLJANA, 04/22/2022 10:15:54:

Avg. rating:

Enostavna in hitra montaža. Nosilec je zelo praktičen, dovolj stabilen za varen prevoz koles. Možnost odpiranja nosilca za lažji dostop do pritljažnika avta pa je nujna opcija. Z dodatnim nosilcem pa lahko hitro in enostavno prevažaš kar štiri kolesa.

Bistveno boljša in varnejša rešitev kot nalaganje koles na streho vozila. Toplo priporočam.

M. S., Kranj, 03/10/2022 21:30:11:

Avg. rating:

Super izbira za prevoz koles. Izogneš se nalaganju koles na streho, s pomočjo adapterja pa se kapaciteta poveča na štiri. Glede na kompaktne dimenzije, pa ga lahko preprosto pospraviš v prtljažnik.

S. B., Ljubljana, 03/06/2022 20:23:06:

Avg. rating:

Nosilec lahko samo pohvalim, enostaven za rokovat, idealna rešitev za prevoz koles če imate kljuko.
Priporočam...

D. O., Grosuplje, 09/22/2021 10:10:32:

Avg. rating:

Odličen nosilec. Res kvaliteten in enostaven za uporabo. Tudi dostava je bila izvedena v 24 urah. Odlično.

A. V., Fiè allo Sciliar, 09/03/2021 12:14:10:

Avg. rating:

Servizio impeccabile ditta seria consigliatissima prezzo sotto la media e il prodotto era ben imballato consegna con due giorni in anticipo grazie da voi comprerò ancora

V. S., Ljubljana, 08/14/2021 11:36:46:

Avg. rating:

Enostavno se namesti, stabilen in ne moti pri vzvratni vožnji.

S. D., Tržič, 08/12/2021 12:04:25:

Avg. rating:

Odlična, kvalitetna zadeva, enostavna namestitev in praktična uporaba. Zelo priporočam.

J. T., Škofljica, 08/05/2021 21:41:16:

Avg. rating:

Odlična, kvalitetna zadeva, enostavna namestitev in praktična uporaba. Vsekakor priporočam.

I. P., Ljubljana, 07/25/2021 23:29:42:

Avg. rating:

Super zadeva, preprosto za namestitev, skoda da ni en ključ za vse, super uporabno.
Zelo zadovoljen - priporočam nakup

Z. C., SLOVENJ GRADEC, 07/25/2021 18:23:38:

Avg. rating:

Preprosta uporaba/lahka namestitev ter odlična kakovost. Še posebej zaželjena opcija, da je možna razširitev za še eno dodatno kolo.

F. J., Velika Loka, 07/22/2021 09:15:45:

Avg. rating:

Zelo kvalitetno in uporabno. Zmerom kupujem samo izdelke Thule in sem bil še vedno pozitivno presenečen. Priporočam ravno ta model zato, ker vsi senzorji in ostale zadeve avtomatsko delajo brez da bi posebej kaj nastavljal ali vklopljen.

. ., Novo mesto, 06/23/2021 10:44:18:

Avg. rating:

Izdelek popolnoma ustreza našim potrebam. Je zelo praktičen in enostaven za uporabo.

V. K., Komenda, 06/17/2021 10:07:02:

Avg. rating:

Nosilec je enostaven za uporabo. Kompakten in varen. Super je.

S. C., Roma, 06/01/2021 13:30:11:

Avg. rating:

Portabici arrivo in tempi giusti, purtroppo un parte si è danneggiata con il trasporto. Ho inviato una segnalazione, attendo riscontro. Peccato avrei dato 5 stelle.

J. K., Žirovnica, 03/04/2021 14:58:02:

Avg. rating:

Kakovosten nosilec za kolesa. Čeprav je malo dražji odtehta svojo ceno. Priporočam.

S. T., Ljubljana, 10/22/2020 11:12:48:

Avg. rating:

Za veliko družino potrebuješ več koles in večji nosilec. Ta je res praktičen.

L. P., Rovereto, 08/05/2020 18:17:03:

Avg. rating:

Portabici arrivato il 3 agosto, consegnati dopo telefonata da parte del corriere. Tutto perfetto.

S. K., Zgornja Kungota, 08/04/2020 12:30:33:

Avg. rating:

Kot vedno odlično. Res, da je nosilec med dražjimi, vendar pri prevozu koles deluje suvereno, stabilno in masivno. Pri prevozu štirih gorskih koles brez problema, le da je tu in tam potrebno podložiti vmes kakšen kos pene, da se pri pestih koles le ta pri vožnji čez grbine ne drgnejo druga ob drugo. Zadovoljen z nakupom...

U. U., KRANJ, 06/23/2020 10:42:59:

Avg. rating:

Zelo kvaliteten nosilec za kolesa. Sem uporabljal tudi že druge znamke, vendar je thule med najboljšimi.

L. G., Trento, 06/23/2020 09:17:59:

Avg. rating:

Extremvital è una garanzia assoluta. Spedizione immediata, in soli 4 giorni avevo il prodotto consegnato a casa. Inoltre hanno un servizio clienti impeccabile. Molto cordiali e soprattutto disponibili. Posso confermare che tornerò ad acquistare da loro. Grazie!

R. V., Udine, 06/18/2020 22:58:17:

Avg. rating:

Prodotto come da descrizione ed arrivato in tempi brevissimi. Personale molto professionale e super cordiale. Consiglio sicuramente di acquistare da loro.
Ottimo prezzo

E. L., CESENA, 06/18/2020 17:04:19:

Avg. rating:

Ordinato e arrivato in soli 4 giorni......prodotto ottimo ad un prezzo introvabile e servizio pre e post vendita strepitoso!!!!!!
Pagamento in contanti alla consegna, veloci e precisissimi in tutto!!!?
Nessun problema!!!!
Davvero complimenti!!!!
Semplicemente grazie!!!!!

G. M., Ljubljana, 05/09/2020 11:08:12:

Avg. rating:

Predlagam, da si nosilec pred nakupom najprej sposodite. Prostor za kolesa je precej omejen in je potrebno najti kombinacijo, da se 3 MTB kolesa sploh spravi gor. Jaz bi si želel nekaj cm širši nosilec, kjer bi kolesa hitreje zložil gor, morda model VeloSpace?

T. F., GOLNIK, 04/29/2020 16:16:18:

Avg. rating:

Izredno hitra montaža na avto in enostavna uporaba. Uporabljam tudi snemljivo kljuko in imam vse skupaj s kolesom nameščeno v 10ih minutah.

L. L., Campolongo sul Brenta, 01/29/2020 18:53:15:

Avg. rating:

Il prodotto è Thule e non ci sono discussioni sulla qualità, mentre per il negozio Extremevital era la prima volta che compravo da loro, oltre ad aver avuto indubbiamente il miglior prezzo, in 3 giorni mi è arrivato il pacco, e, avendo avuto un dubbio sul tipo di spina del portabici, dopo 20 min dalla mia mail ho ricevuto una chiamata da loro e abbiamo risolto tutto in 2 minuti. Non posso che fare i complimenti per l'efficienza. Bravi.

B. P., Velenje, 12/24/2019 14:32:56:

Avg. rating:

Thule je za mene sinonim kvalitete in enostavnosti uporabe.Zadovoljen z uporabo.

M. B., Modena, 10/12/2019 08:14:57:

Avg. rating:

Vorrei spendere qualche parola non solo per il portabici ma anche per ilvnegozio extremevital che ha fatto consegnare il pacco nel giro di 2 giorni a Modena in Emilia romagna con il pagento alla consegna che è molto comodo.
Riguardo al portabici sempre extremevital ha il miglior prezzo sul mercato tanto che senza nessun pensiero ho acquistato il portabici. Thule non si discute e riguardo ai materiali ed efficienza durante i viaggi da sicurezza. Consiglio il prodotto!

J. R., Ljubljana, 10/11/2019 10:02:51:

Avg. rating:

Zelo solidno izdelan nosilec. Vožnja je veliko bolj prijetna kot s strešnimi nosilci.
Je še ena podrobnost, na katero nisem bil pozoren - ko nosilec ni v uporabi, se zloži na dovolj majhno, da gre v prtljažnik avtomobila! (velja za srednje velik karavan)
Tako ga lahko prevažate od enega kraja do drugega ter ne moti pri parkiranju in manevriranju.

G. S., Fiães, 11/13/2018 18:15:41:

Avg. rating:

I was happy with the purchase. The product arrived within the expected time

L. S., Arosio, 06/11/2018 14:30:07:

Avg. rating:

Prodotto ottimo, come da descrizione, negozio serio ed affidabile, tempo di consegna ottimo, 2 gg in meno del previsto.


M. Cao, Mestre, 05/28/2018 07:59:18:

Avg. rating:

Prodotto di indiscutibile qualità.
Negozio serio, affidabile, veloce e sopratutto disponibile a qualsiasi informazione e consiglio.
Consegna in tempi veramente rapidi.
Complimenti.

S. A., Belluno, 03/06/2018 11:23:10:

Avg. rating:

Prodotto come da descrizione, arrivato nei tempi stabiliti ed imballato con cura.

D. Z., Vrhnika, 09/17/2017 10:52:02:

Avg. rating:

Kvalitetno izdelan nosilec, ki omogoča lahko montažo in lahek dostop do prtljažnika. Kolesa so dobro pritrjena in osebno se mi zdi prevoz veliko bolj varen, kot pri strešnih nosilcih.

R. B., Cerro Maggiore, 04/27/2017 12:35:53:

Avg. rating:

Il prezzo è il più basso che ho trovato in rete, spedizione velocissima e gratuita,
Il prodotto è solidi e una volta montato è stabile le bici sono tenute ben salde.
sono molto soddisfatto sia del prodotto che del venditore

A. R., CESENA, 03/10/2017 16:56:16:

Avg. rating:

Siete davvero eccezionali!
Ottimo acquisto, spedizione rapidissima....tutto perfetto.
Complimenti e grazie mille!!!

D. L., Ljubljana, 12/14/2016 13:43:57:

Avg. rating:

Kvalitetno narejen produkt. Pri skladiščenju zavzame malo prostora. Ni potrebno razmišljat ali je prostor dovolj visok (v primerjavi s strešnimi nosilci), da lahko zapelješ vanj.

J. S., Ljubečna, 02/20/2016 17:25:31:

Avg. rating:

Zložen nosilec zavzame malo prostora in je izredno enostaven za montažo. Konstrukcija je dovolj robustna, plastika kvlitetna. Z enim ključem imaste dostop do vseh ključavnic. Zelo priročna je opcija nagiba za dostop do prtljažnika. Vreden cene!

I. Z., Nova gorica, 01/31/2016 20:51:39:

Avg. rating:

Nosilec za kolesa ni ravno lahek toda z montažo na vlečno kljuko ni težav. Vsekakor lažje kot dvigovati kolesa na streho avtomobila. Nosilnost je kar 60 kg kar je več kot dovolj tudi za 4 kolesa. Izdelava je vredna znamke Thule.

M. K., Dravograd, 09/11/2015 16:15:48:

Avg. rating:

Vsekakor vredno svojega denarja. Prednosti pred slabšimi modeli ali konkurenčnimi nosilci so:
- enostavna pričvrstitev na vlečno kljuko (kroglo) z ročico; ko z vijakom za fino nastavitev enkrat nastavimo velikost krogle nosilec hitro in enostavno pritrdimo z potegom ročice z eno roko, z drugo pa uravnavamo nivo (pozicijo). Pri ostalih je potrebno npr. z dodatnimi ključi vrteti vijak.
- Kompakten za shranjevanje; luči so na vodilih in se enostavno porinejo v pozicijo za shranjevanje, tako zložen gre potem nosilec v prtljažnik avtomobila (recimo za zaščito pred krajo na dopustu)
- Trakovi, za pričvrstitev koles (preko obročev) so iz kompaktne plastike in se enostavno napenjajo in rahljajo (z račno), pri cenejših modelih je tukaj navadno mehek trak iz tkanine
- Ključavnice so priložene v setu
- Možnost za dodatno 4. kolo (z dokupom dodatka)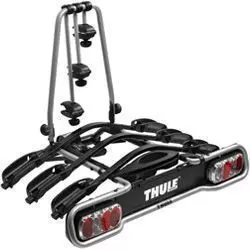 Thule
Bike carrier EuroRide 3 942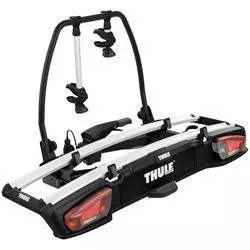 Thule
Bike carrier Velospace XT 2 938